We live in an age of portable this and portable that, but there are still times when we need something stationary. The demand for portable or hand-held woodworking tools has not eliminated the need for stationary woodworking machines.
Woodworking involves forming individual pieces of wood. Sometimes this is done by cutting and carving, and most often building these pieces together like building blocks. Both hand-held or portable woodworking tools come useful in the "putting together" process of a woodworking excursion, but woodworking stationary machines continue to play an integral role in the shaping of woodpieces prior to the actual construction of putting them together.
One might make an analogy by stating that woodworking stationary machines are the block builders, aiding woodworkers in efficiently making the "pieces" that combine to create the whole project.
Below is a list of some of the woodworking stationary machines which can be commonly found in a woodworker's woodshop.
Bench Grinder
Bench grinders are basically abrasive wheels which are geared for various purposes. To get a clear image of a bench grinder, just picture a wheel next to a motor which is turning the wheel. Like most woodworking stationary machines, the workpiece is "fed" into the bench grinder and it can be used for sanding, polishing, or buffing. The operator manipulates the material for the process; not the device itself.
For example, say a woodworker wants to sand a chair armrest. The woodpiece itself is "fed" into the bench grinder, to the specifications of the woodworker's design for a chair armrest.
Bench grinders are not only limited to wood. Depending on the type of grinding wheel being used, the bench grinder can also polish or sand various metals and certain plastics.
Bench grinders are one of the most commonly used woodworking stationary machines found in a woodworker's shop because of their flexibility and multipurpose nature.
Jointers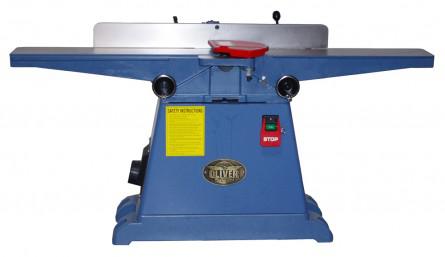 Woodworkers have seen the beauty of jointers and they play an integral part in woodworking excursions. Because they're capable of making mortises and biscuit join setups, jointers come as essential to professional woodworkers. Because jointers are fast, accurate and easy for the making of wood joints, they are a great asset in meeting project deadlines which may limit the time available to work on the project.
With the efficient and precise use of jointers assuring an accurate joint cut with woodworker has the advantage of more time to focus on the other aspects of the woodworking project.
Drill Press
A drill press isn't simply limited to drilling jobs. Drill presses can be used in the same way a bench grinder is used, fitting the drill press with grinding wheels instead of a drill bit. As a woodworking stationary machine, again, one is not trying to work a piece of wood and also hold a machine at the same time.
Drill presses are composed of various parts. The basic parts are a base, table, a pillar/column, a spindle and a drill head. The drill head goes down on a fixed path through the machine's pillar/column, as the material being worked is placed on the machine's table. This allows the operator of the drill press to get an accurate drilling job.
To adapt a drill press to a grinder or polisher, one need only replace the drill head with a grinding wheel, or a polishing wheel. Voila! The drill press now works as a grinder or polisher.
As "pre-assembly" making tools, woodworking stationary machines are incredibly important. The ability to gain faster construction, accurate measurements and the easy making of tools again allow the woodworker to focus more attention on the aesthetic values of the woodworking project, and often that is the very thing which makes woodworkers competitive and superstars in the making.
Air compressor
No other tool is versatile like air compressor. Although it doesn't directly involve in you wood working process, it's a reliable power source for lots of air tools, such as: air nailer, air ratchet, air washer, etc. 
Air compressors are available in many forms, many sizes (1 gallon, 5 gallons, 10 gallons, 20 gallons, or even 60 gallons), their power souces are gasoline or electricity for diferrent uses. Some trusted brands that you can buy from are: Makita, Northstar, Dewaltz, Rolair, etc
You may also like this